If you seek to experience the true wonders of winter, look north to Michigan's Copper Harbor. Winter on the Keweenaw Peninsula can intimidate some flatlanders, but many find exploring the waist-deep snowdrifts and vast white-capped wilderness intoxicating. With a charming mix of places to stay, eat and drink and plenty of outdoor winter activities, an escape to Copper Harbor can warm the soul. To help guide your visit, here are our recommendations for the top winter activities in Copper Harbor, MI.  
SCENIC WINTER DRIVES 
You can't make it to Copper Harbor without a breathtaking scenic drive. M-26 runs along the rugged western shores of the Keweenaw Peninsula between Eagle River and Copper Harbor and offers winter travelers a unique perspective on what makes the Keweenaw such a meaningful destination. This drive treats visitors to miles upon miles of unsurpassed beauty, including pristine snowy forests, fascinating icy Lake Superior shoreline formations, frozen waterfalls, and picturesque lighthouses resting in jaw-dropping winter landscapes. Check out some of our favorite places to explore along the way. 
EAGLE RIVER FALLS
Eagle River Falls is located along the south side of M-26 as it enters the village of Eagle River. There is a pedestrian bridge just off M-26 that provides visitors with the perfect view of the snow-filled icy gorge. The frozen Eagle River Falls is an incredible sight, but while you are on the pedestrian bridge, make sure to turn around and take a peek at the Eagle River Timber Bridge. Its side-by-side wooden arches are functional, strong, and aesthetically pleasing on a snowy winter day.  
Eagle River Falls freezes to create a magical landscape. 
EAGLE HARBOR LIGHTHOUSE
Eagle Harbor Lighthouse, built-in 1851, is an operational lighthouse that rests on the rocky shore of Eagle Harbor. This classic red brick lighthouse is a sight to see during all four seasons, but there is something extra special about visiting this lighthouse by snowshoe during the winter.  
Lake Superior creates intricate ice sculptures along the shoreline and the red roof of the lighthouse pops against the cold winter sky. Although the museum buildings are closed during the winter, the grounds are open to visitors year-round. Grab a pair of snowshoes and take a short hike to the edge of Lake Superior for the best views. Sunset is a great time to capture beautiful photos of this historic light as the setting sun reflects off the ice formations along the shoreline.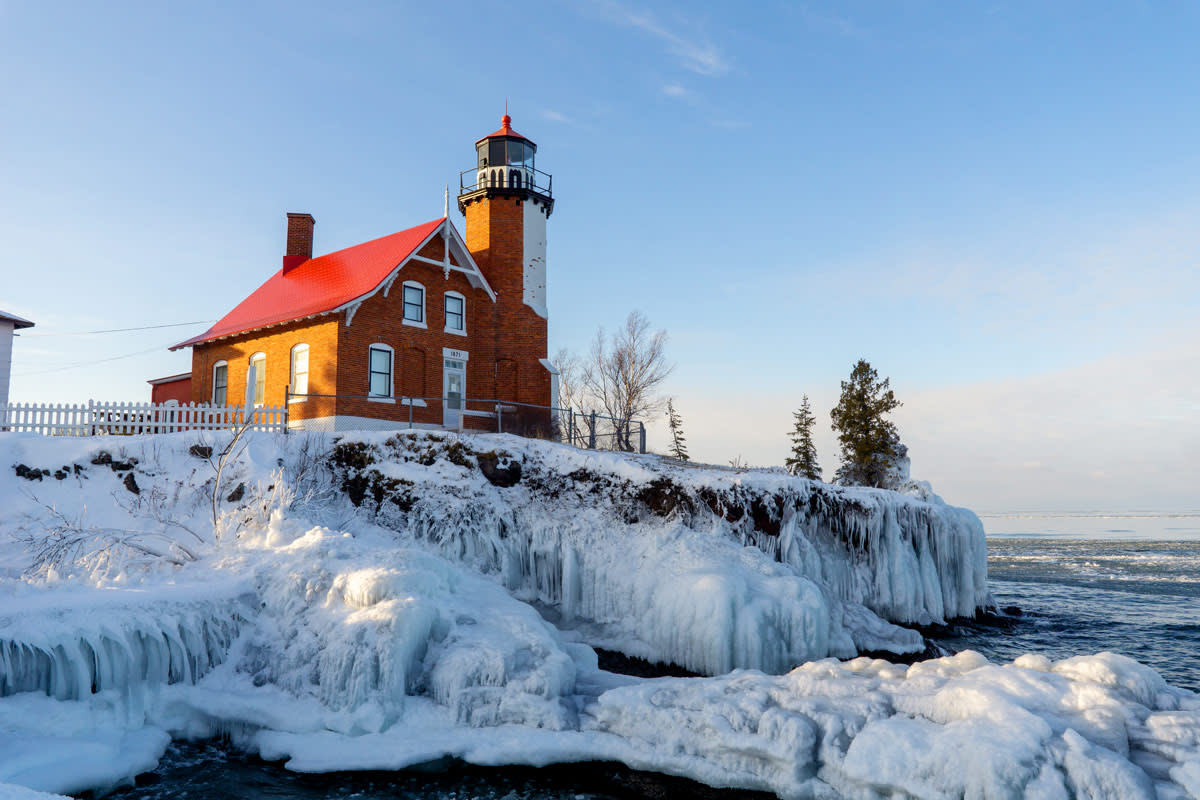 Eagle Harbor Lighthouse is one of the most photogenic lighthouses to visit during the winter months.
DARK SKIES AND NORTHERN LIGHTS
The Clear winter nights provide excellent dark sky stargazing opportunities in Copper Harbor area. In fact, the Keweenaw Dark Sky Park, headquartered at the Keweenaw Mountain Lodge in Copper Harbor, is the first designated International Dark Sky Park in the Upper Peninsula of Michigan. Since the Keweenaw's communities are small and widely dispersed there is minimal light pollution, making it easier to see more stars and even the northern lights. During the winter, the Keweenaw experiences short days and long nights. These extended nights also make it easier to experience the magic of the night sky. The Keweenaw Mountain Lodge offers educational opportunities, like astrophotography and light management workshops for those interested in learning more about the night sky.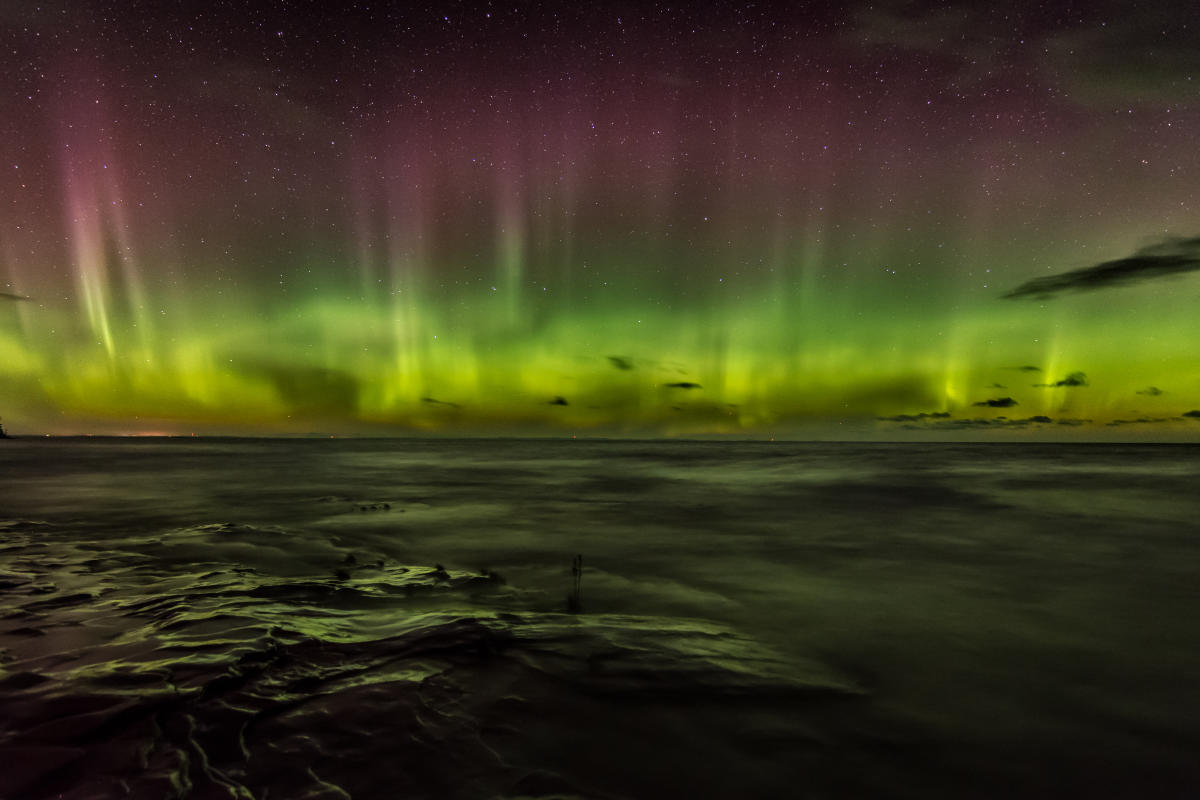 XC SKIING & FAT TIRE BIKING 
From groomed trails to backcountry excursions, Copper Harbor has plenty of cross-country skiing and fat-tire biking experiences for all skill levels.  
FORT WILKINS WINTER TRAIL LOOP
The "Fort Wilkins Loop" offers 9 kilometers of winter trails. These two-way trails allow for variations of loops and distances and are regularly groomed by the Copper Harbor Improvement Association. The Fort Wilkins Loop includes classic ski tracks and a separate lane for fat-tire bikers and snowshoers. These relatively flat trails offer leisurely terrain and a variety of scenic views, from snowy wooded scenes to glimpses of mighty Lake Superior in all her frozen splendor. Maps are available at the Gas Lite General Store, and the trailhead is located behind the Copper Harbor Welcome Center.  
KEWEENAW MOUNTAIN LODGE WINTER TRAILS
The Keweenaw Mountain Lodge has 10 kilometers of groomed, classic cross-country ski trails. These trails, conveniently located right outside the Keweenaw Mountain Lodge cabins, feature a mix of wooded terrain and open spaces with multiple loop options. The lodge also has Altia Hok Skis available for rent, which offers a maneuverable design that is perfect for exploring all the fresh snowfall throughout the Keweenaw Mountain Lodge trail system.  
END OF THE ROAD TRAILS
Where the road ends, trails begin. The End of the Road Trails start at the end of US-41. Classic track is set on these trails, and they take skiers to remote skiing destinations, like Horseshoe Harbor. The East Bluff Rd trails offer skate skiing opportunities and tend to be firm enough for fat-tire biking, as well.These trails are perfect for silent sports fans who enjoy peace and quiet paired with splendid views. Stop by the Gas Lite General Store in Copper Harbor to pick up a trail map!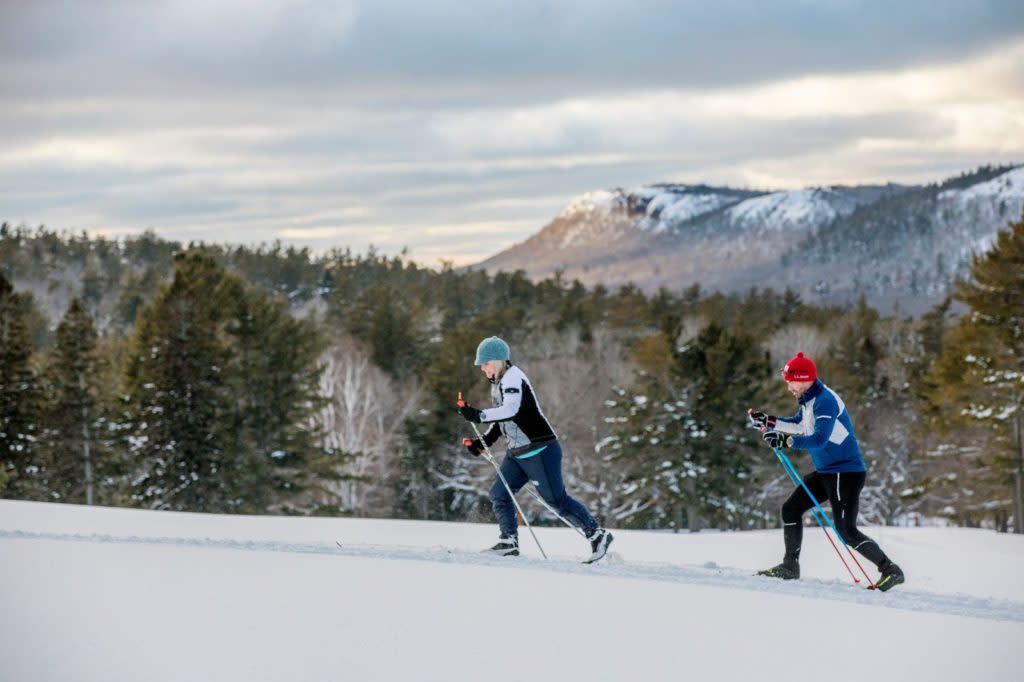 The Keweenaw Mountain Lodge's winter trail system offers both snowshoeing and cross-country skiing.
GRAB A BEER AT MICHIGAN'S NORTHMOST BREWERY 
Brickside Brewery is Copper Harbor's first and only microbrewery. This family-owned brewery offers delicious craft beer and good conversation to all those who come to explore the Keweenaw. The cozy atmosphere of this small brewery also encourages explorers to swap stories of great wilderness adventure. Stop in and warm up Thursday through Saturday during the winter months.  
SNOWMOBILE TO THE TOP OF BROCKWAY MOUNTAIN 
On average, the Keweenaw receives over 270 inches of snowfall each year and is home to over 230 miles of snowmobiling trails. Brockway Mountain Drive is consistently ranked as one of the best fall drives in the Upper Peninsula, but the views don't stop in the winter! Snowmobilers can take Brockway Mountain Trail up to the top of the mountain and experience panoramic views of Lake Superior, snowy treetops, and charming Copper Harbor all winter long. Or head out to High Rock Bay which is about as close as you can get to the very tip of our long narrow peninsula.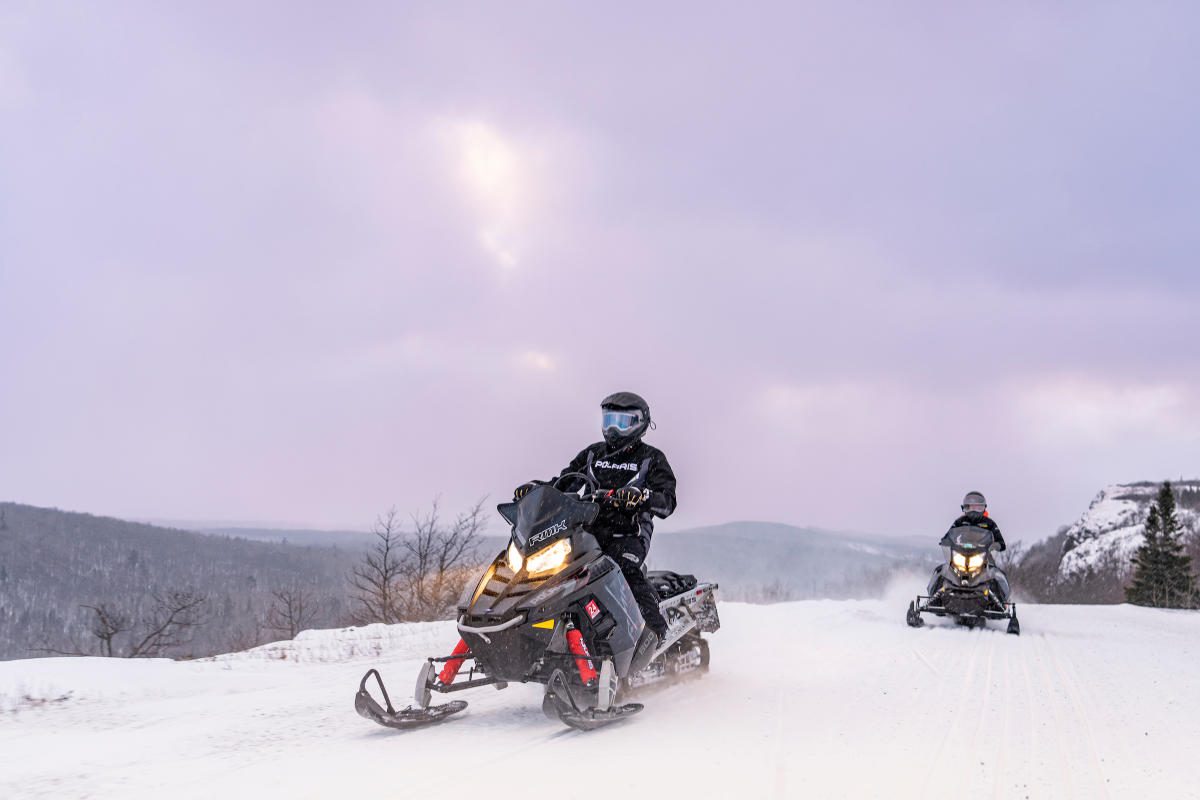 The top of Brockway Mountain can be accessed by snowmobile when visiting Copper Harbor.
SNOWSHOEING 
Copper Harbor offers a wide variety of snowshoeing experiences at places like Estivant Pines Nature Sanctuary, Hunter's Point Park, and the Keweenaw Mountain Lodge.  
KEWEENAW MOUNTAIN LODGE SNOWSHOE TRAIL
Keweenaw Mountain Lodge has a lovely snowshoe trail that circumnavigates the lodge property. The trail is about 2 miles long and takes visitors through a mix of wooded terrain and open spaces. It gives snowshoers the chance to discover rocky geologic formations and historic architecture while experiencing the sheer beauty of the snowy winter landscape. The Keweenaw Mountain Lodge Outdoor Activity Center also offers snowshoe rentals with poles, which can be used on the Keweenaw Mountain Lodge trails as well as other locations on the Keweenaw Peninsula.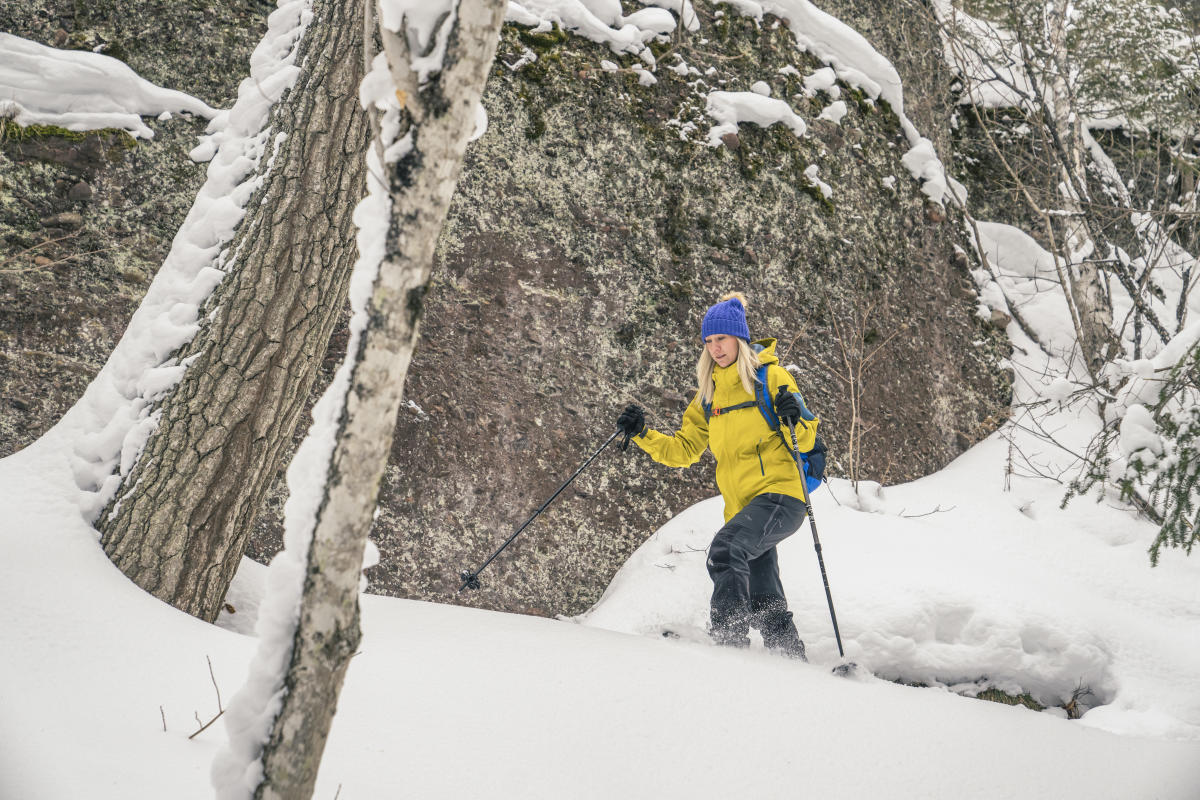 Keweenaw Mountain Lodge has a beautiful snowshoeing trail.
ESTIVANT PINES NATURE SANCTUARY
Estivant Pines is the largest tract of old-growth Eastern White Pines preserved in Michigan. Fresh snowfall and a little winter sunshine make these giant 300–500-year-old White Pines unimaginably majestic. These virgin pine trees tower up to 125 feet and create the perfect canopy for a serene snowshoeing experience.  
The road out to Estivant Pines turns into a snowmobile trail which snowshoers can use to access the Estivant Pines sanctuary.  The snowmobile trail is about ½ mile from the Estivant Pines trailhead. Please use caution while on the snowmobile trail.  For more information about exploring Estivant Pines in the winter, please see our detailed guide.
HUNTER'S POINT PARK
Hunter's Point is a narrow finger of land that stretches out into Lake Superior in Copper Harbor. The summer walking trails along Hunter's Point are easily traversed by snowshoes or skis during the winter months. This geologically interesting peninsula provides excellent snowshoeing, and the views of frozen Lake Superior are hard to beat.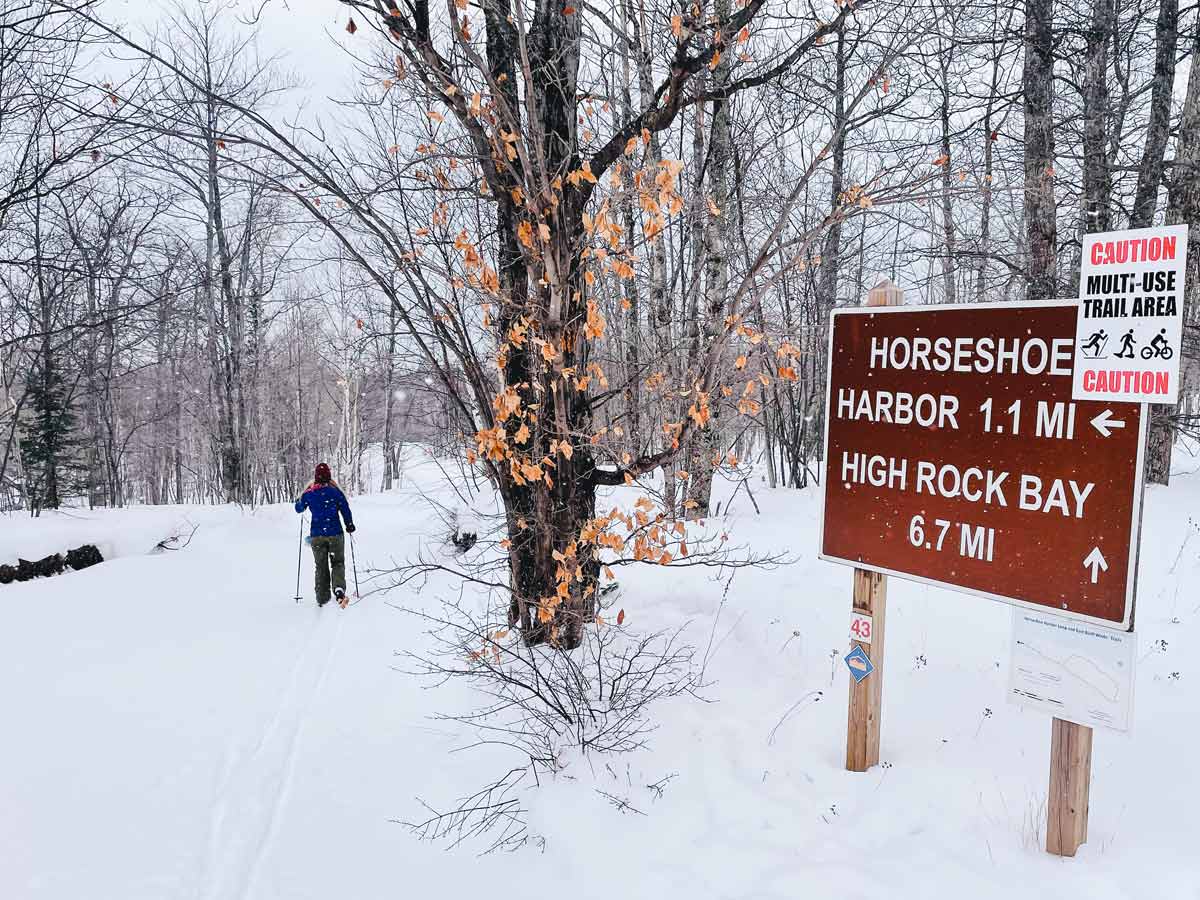 Head to Horseshoe Harbor, beyond where US 41 ends, for a secluded Copper Harbor winter experience.
PLAN A COPPER HARBOR ICE FISHING EXCURSION
Copper Harbor was recently ranked as a top ice fishing destination in the United States by FishingBooker. The Keweenaw's long cold winters guarantee solid ice formation on large inland lakes and even Lake Superior! There are several varieties of fish that can be caught, including lake trout, Northern Pike, Walleye, Coho & Chinook Salmon, and whitefish. When the lake freezes over, anglers can fish deeper depths and catch even bigger fish!  
EXPERIENCE MOUNT BOHEMIA  
Long beloved by Midwest powder hounds, Mount Bohemia Ski Resort in Lac La Belle is a short drive away from Copper Harbor. Known for its "non-beginners allowed" mantra, this is a must-ski resort for downhill enthusiasts. Its steep slopes, cliff bands, and exposed rock formations attract experienced skiers and snowboarders looking to test their skills and enjoy an experience of a lifetime. Skiers of average skill level can still enjoy Bohemia's 100+ runs, albeit a little slower than the experts.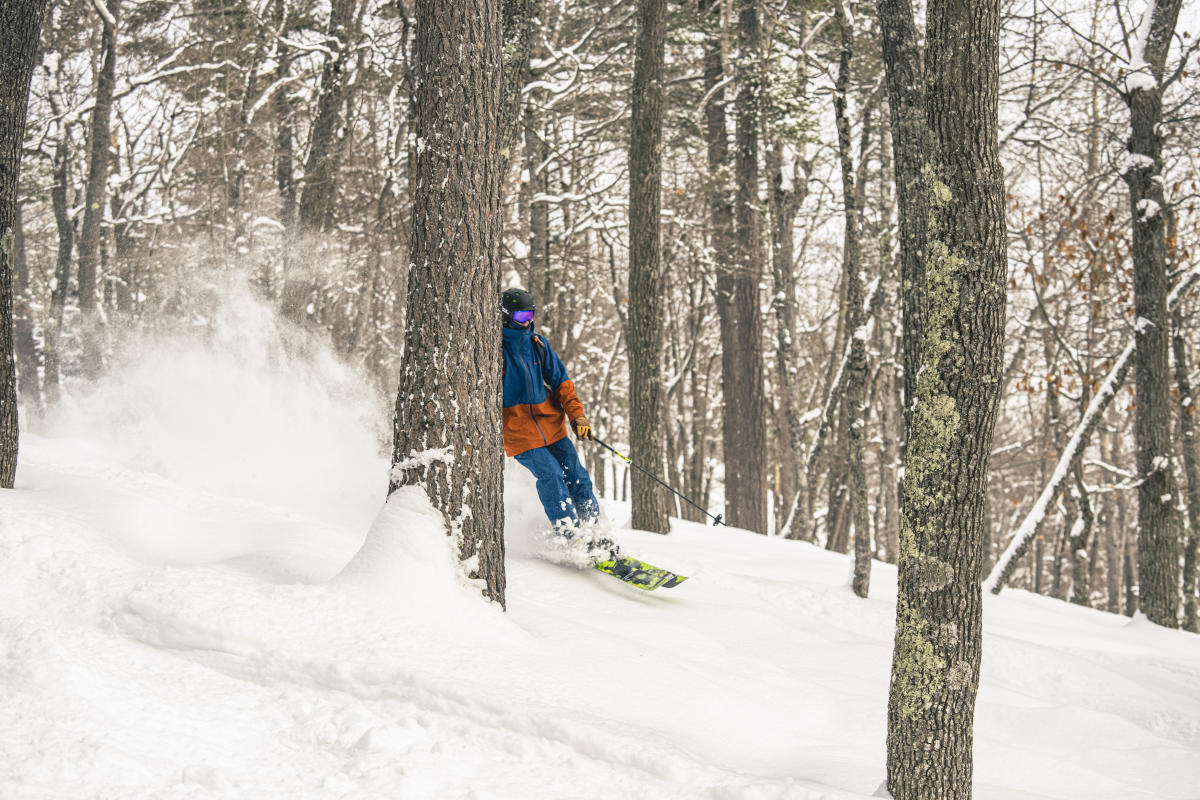 No trip to Copper Harbor (in the winter) is complete without experiencing Mount Bohemia.
Interested in updates, travel tips and quirky information about the Keweenaw? Just sign up for the Keweenaw Explorer, our monthly e-newsletter. Complete the form…