If you're dreaming of a white Christmas, the Keweenaw Peninsula certainly delivers. Colorful lights and merry décor line our historic streets and each community is bustling with holiday cheer. Our charming small towns are full of festive family fun, so grab your winter coat and mittens and start planning your Keweenaw Christmas visit. To get you started, here are some holiday events and activities that will make your Christmas in the Keweenaw one to remember.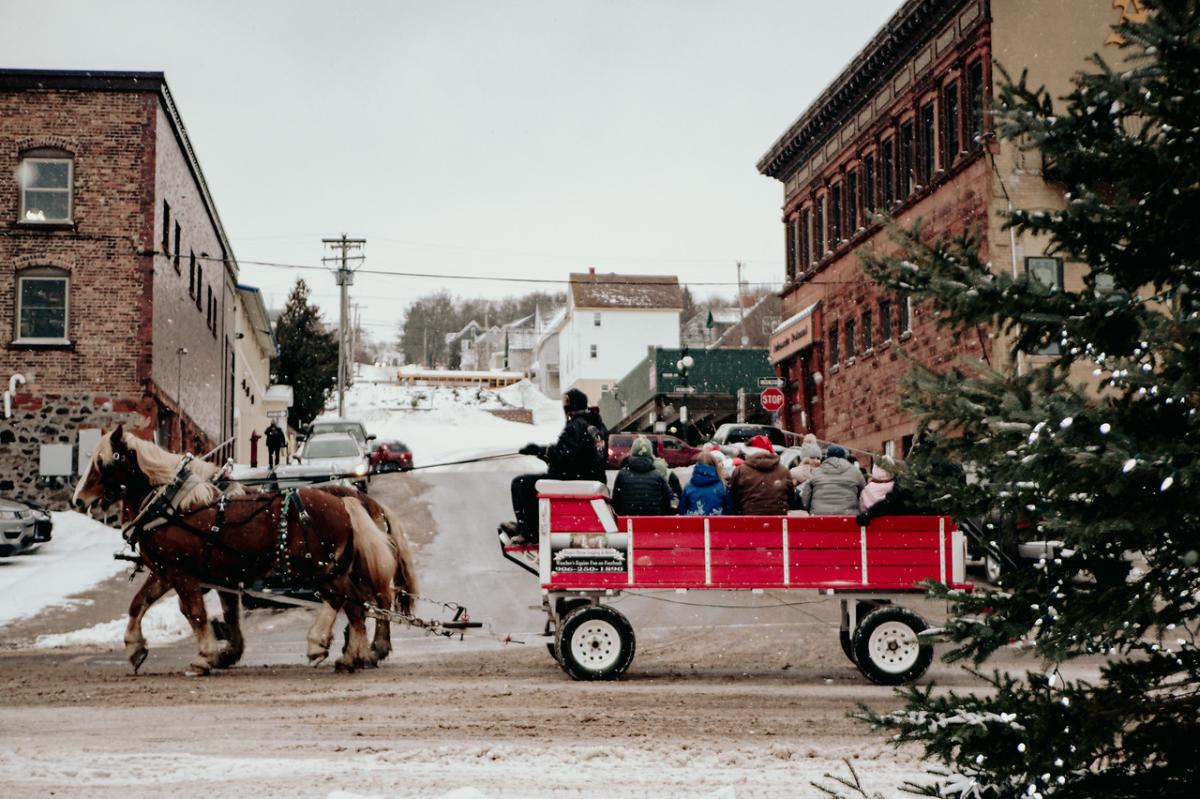 Christmas Events & Festivals 
Hancock Christmas Walk
November 25, 2022 | 5-7PM 
Frosty is coming to downtown Hancock for the annual Christmas Walk! This fun evening includes the annual tree lighting, horse-drawn carriage rides along Quincy Street, dog sled rides, and fire barrels to warm up! Grab a cup of cocoa at one of the hot chocolate stations, decorate some cookies, and tell Santa all your holiday wishes! And of course, don't forget to stop by your favorite Hancock businesses for some holiday specials.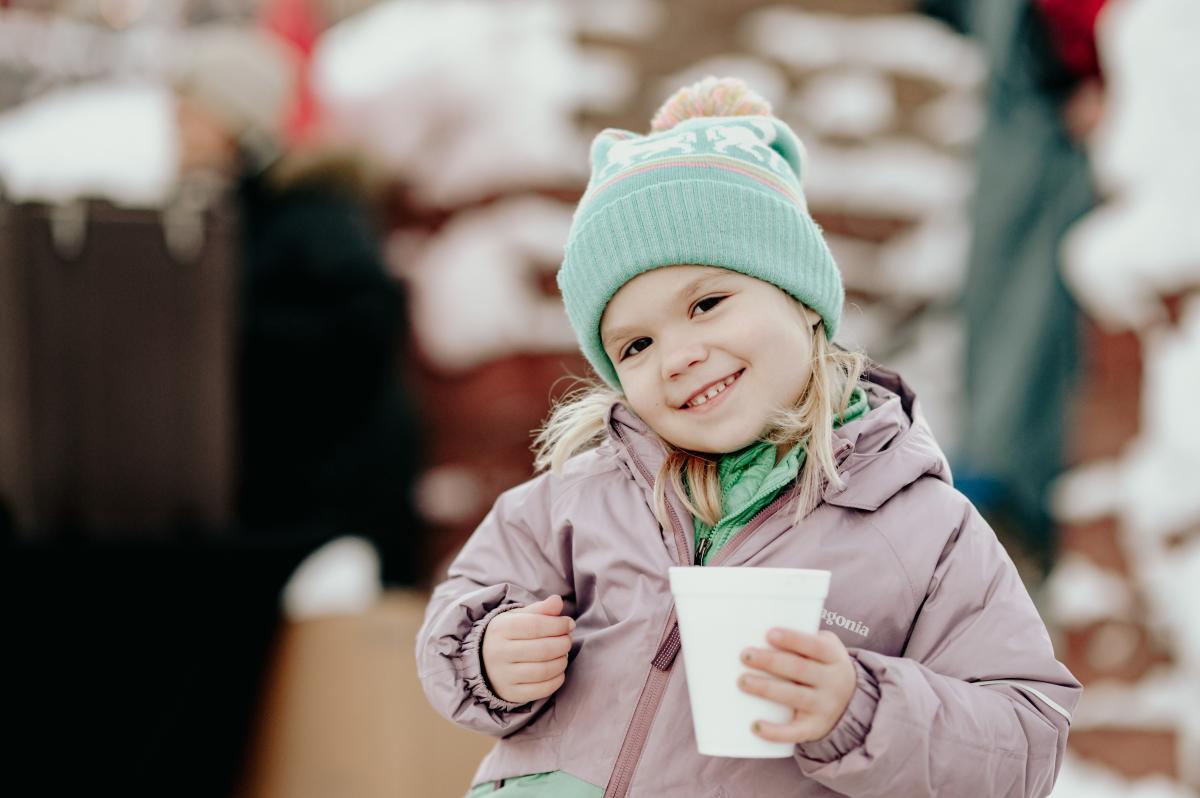 Tis the season to drink lots of hot chocolate! 
Houghton Winter Wonderland Celebration 
December 3rd & 17th, 2022 | 4-7PM 
Houghton transforms into a Winter Wonderland in December thanks to Lake Superior's lake-effect snow machine and larger-than-life holiday decorations along Shelden Avenue and the Keweenaw waterway! Cozy up with your loved ones (and a cup of hot chocolate) as you enjoy a rustic horse-drawn carriage ride along the scenic Keweenaw Waterway.  Houghton's illuminated holiday trail provides fantastic views of the iconic Portage Lake Lift Bridge aglow in the night. Say "hi" to Santa as you listen to the merry sounds of Christmas Carolers, and make sure to snap some photos with your friends and family in front of the decorative holiday displays and your favorite winter cartoon characters.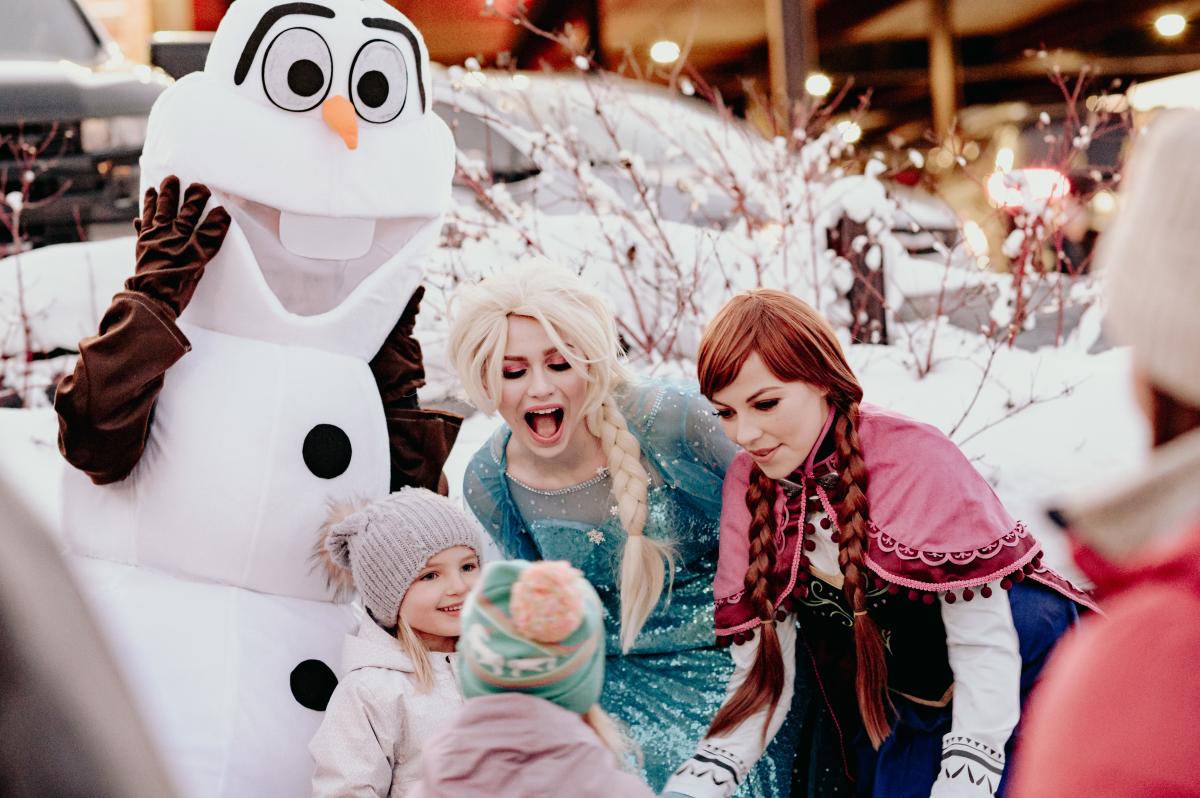 Meet your favorite winter characters at Houghton's Winter Wonderland Festival. 
Chassell's Old-Fashioned Christmas
December 7-10, 2022 
Get in the Christmas spirit by enjoying some old-fashioned yuletide traditions. Take a drive to "ooh and awe" over the decorations hung for the annual Chassell Township Lighting & Decorating Contest. This weekend is packed with activities – visits with Santa, caroling, tree lighting, carriage rides, a Christmas Market, and lots of holiday treats! Stop by the Chassell Heritage Center for traditional live music and their annual holiday open house and be sure to check out the Chassell "Home for the Holidays" Home Tour & Gourmet Tasting event!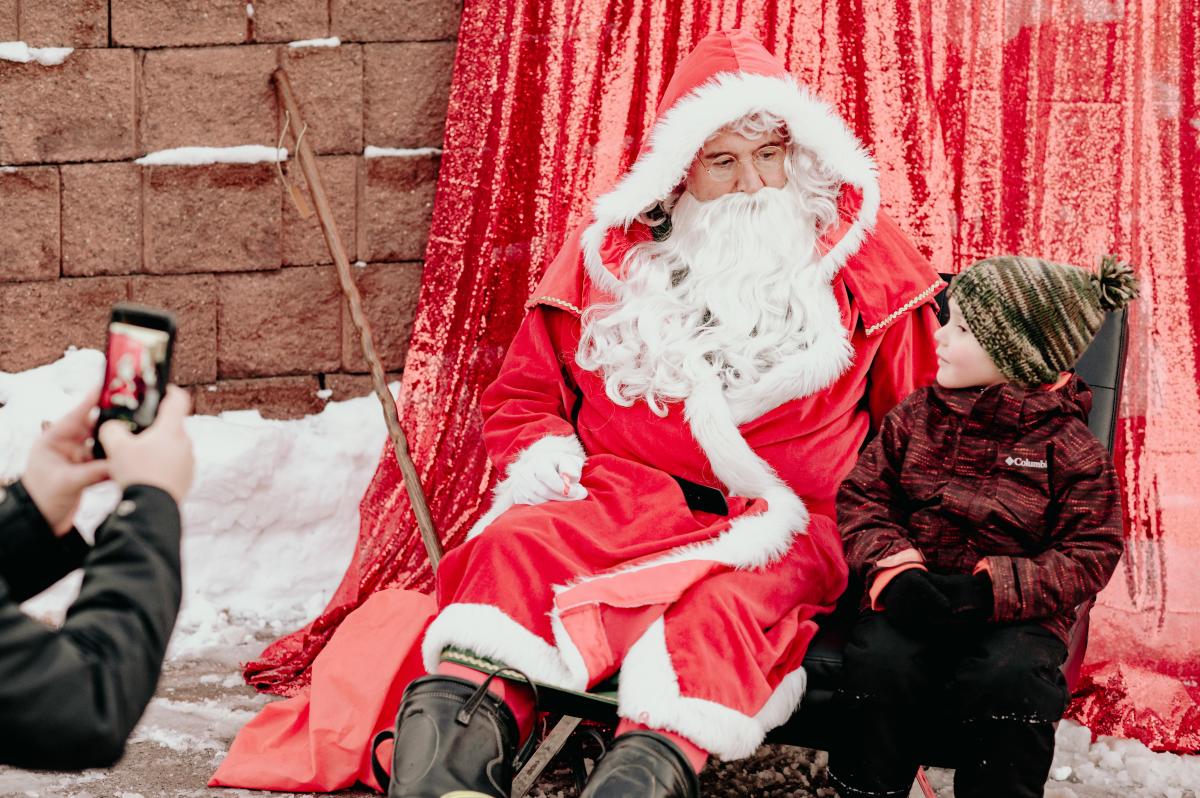 Santa will be spending a lot of time in the Keweenaw this year. Make sure to say "hi!"
Christmas in Calumet 
Saturdays in December | Times Vary
Head to the historic streets of Calumet for three Saturdays of holiday events. From snowy carriage rides along Main Street Calumet to photos with Santa at Ramona's Bakery, Christmas in Calumet will have your hearts aglow. Enjoy a cup of fancy hot cocoa at Frozen Farms Co., and have some fun sledding with Old Saint Nick. Stop by 210 5th Street to make your very own Norwegian paper ornament and decorate cookies before heading to the Gipp to skate with Santa! Click here to learn more about all the festive events planned for Christmas in Calumet.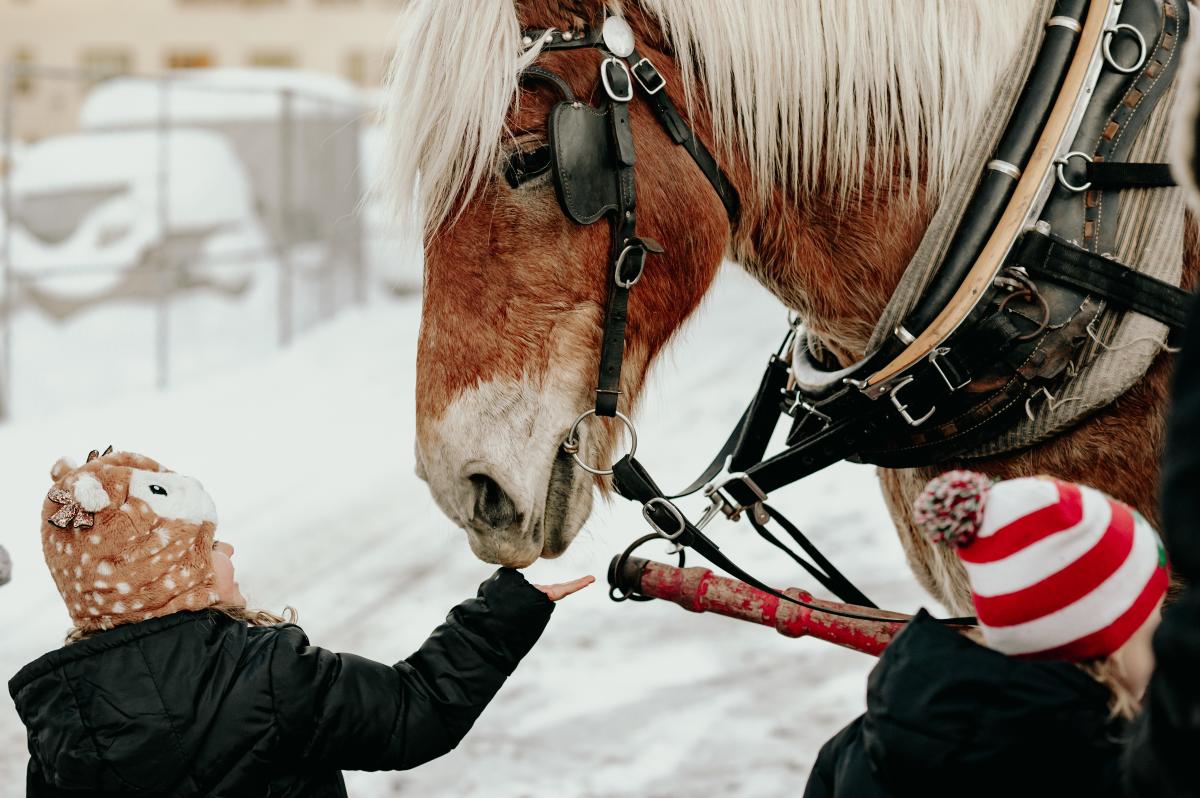 Horse-drawn carriages are a magical part of spending Christmas in the Keweenaw. 
Copper Harbor Winter Wonderfest & Park Lighting
December 17, 2022 | 10AM-6PM
Enjoy the magic of a wintry Christmas in Michigan's northernmost town! Stop by the Holiday Marketplace to pick up unique gifts from local artists. There will also be a bake sale where you can get your favorite holiday treats!  Kids will have a chance to make their own ornaments before Santa arrives on the fire engine. Make sure to be at the Town Park by 6PM sharp! This will be the moment of the annual tree lighting and some fireworks! All proceeds from go to "No Child Without a Christmas Fund." 
Skate with Santa, Mrs. Claus, and The Gremlins Hockey Team
December 10, 2022 | 3-5PM
Don your Christmas hat and lace up your skates because it's time to skate with Santa, Mrs. Claus, and the Houghton Gremlins! This holiday themed skating party will take place at the historic Dee Stadium in downtown Houghton. Our Mr. & Mrs. Claus have some special skating skills so see if you can challenge them to your favorite skating moves! Make sure to bring your own skates, as the Dee Stadium does not have rentals. Center Ice is a great place to buy a new/used pair of skates or get your skates sharpened before our Christmas skating event. 
Ho. Ho. Ho. Snowshoe
December 17, 2022 | 2-8PM
Take a magical chairlift ride and lantern-lit snowshoe hike at Mount Bohemia this December! Grab a pair of rental snowshoes from Mount Bohemia or bring your own, then follow the glowing lanterns down the hill. Refuel with a wood-fired pizza or holiday spirit in Bohemia's Log Cabin Bar. The Nordic Spa will be open; so hop in the Upper Peninsula's largest outdoor hot tub or take a sauna for some post-snowshoe relaxation.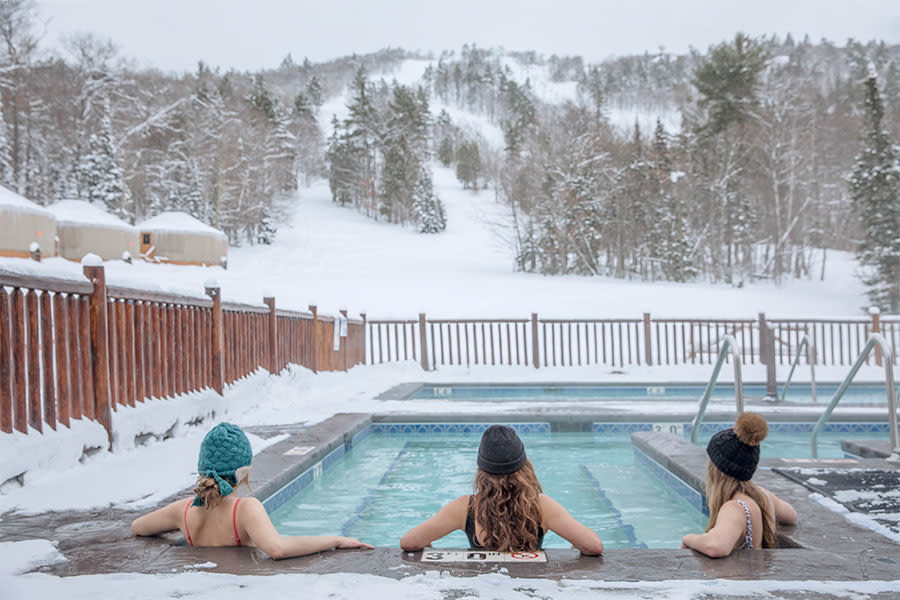 Warm up in the hot tub after your scenic snowshoe hike at Mount Bohemia. 
Look up to the Stars: Stargazing Workshop
December 17, 2022 | 7:30-9:30PM 
Our long winter nights leading up to winter solstice (December 21st) provide some great opportunities for stargazing. Join the Keweenaw Mountain Lodge on December 17th for an educational workshop about night sky photography. Learn about the Keweenaw Dark Sky Park and some tips & tricks for taking pictures of the twinkling stars, milk way, and even the Northern Lights. Local photographer Nathan Bett specializes in astrophotography and will lead this stargazing workshop.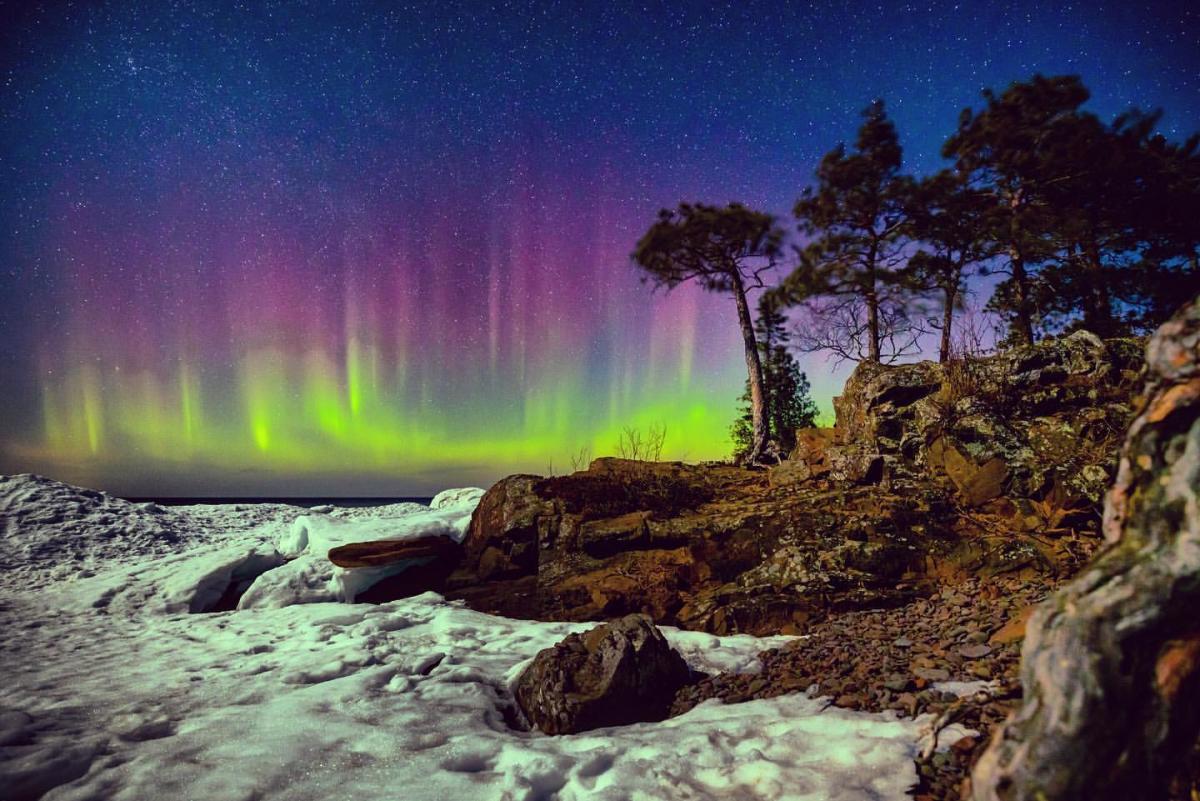 Join local photographer, Nate Bett, at the Keweenaw Mountain Lodge for a Night Sky Photography Workshop. | Photo by Nate Bett
Holiday Shopping
Christmas Markets and holiday shopping events make it easy to find meaningful gifts for the special people in your life. Be on the lookout for unique Keweenaw gifts made by local creatives and artisans. Some of our favorites include local jam and honey, Finnish & Scandinavian Gifts, locally brewed beer, Keweenaw-inspired art, books about the region's rich history, and jewelry made from Lake Superior's beautiful gems.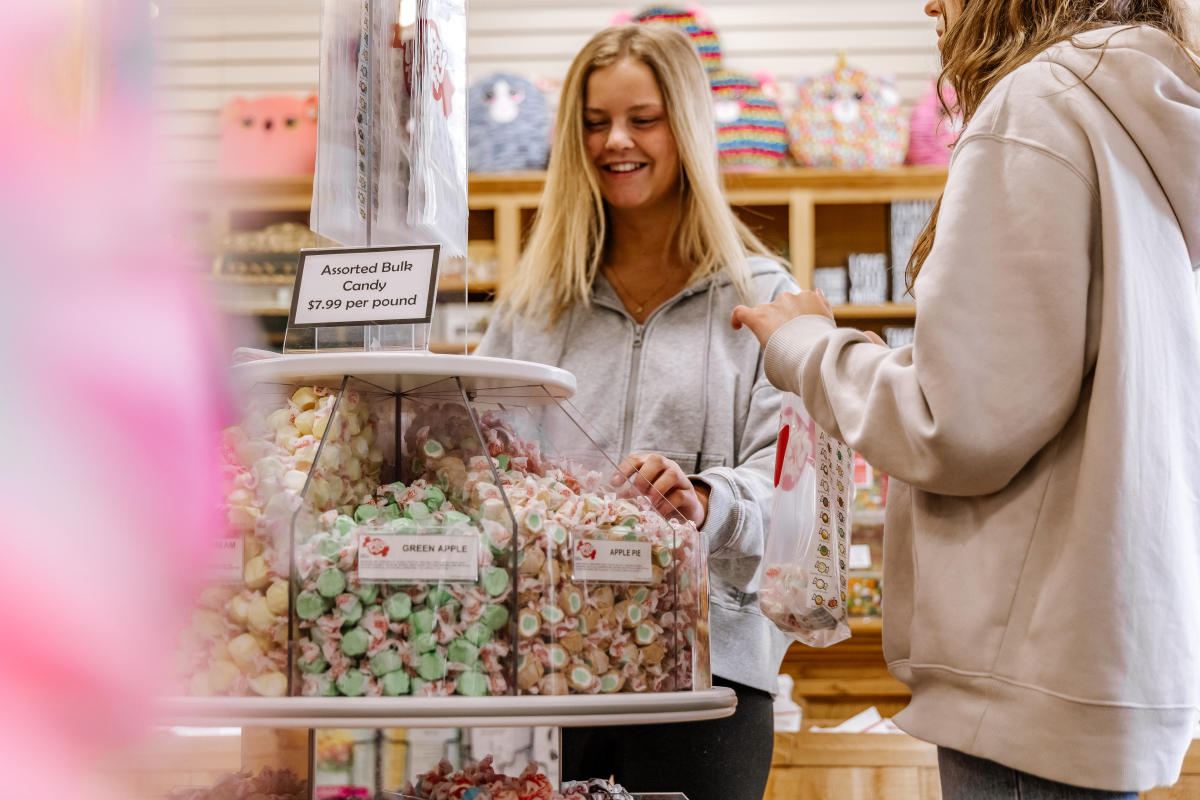 Visit our local gift stores for Keweenaw-inspired gifts. 
Shop Local, Shop Small Here: 
Nov 17 - Ladies Day Out | Calumet, MI
Nov 19 - Protea's Maker's Market | Rozsa Center, Houghton, MI
Nov 26 - Small Business Saturday | Houghton & Keweenaw Counties
Nov 26- All Local Crafters & Bakers Bazaar | St. Joeseph's Church, Lake Linden, MI
Dec 3 - 46th Annual Poor Artists Sale | CLK Gym, Calumet, MI
Dec 10 – Chassell's Old Fashioned Christmas Holiday Market | Chassell Township School 
Saturdays – Calumet Arts Center Winter Markets | Calumet, MI 
Christmas Performances & Shows 
Kick back and relax with some of your favorite holiday performances and shows. Join the ghosts of Christmas Past, Present, and Future as they lead the miserly Ebenezer Scrooge on a journey of transformation and redemption during Michigan Tech's performance of "A Christmas Carol." Honor the great tuba virtuoso, William "Bill" Bell who was born on Christmas Day by tuning into our local Tuba Christmas. Visit the historic Calumet Theatre for The Texas Tenors live in Deep in the Heart of Christmas or catch The Late Show to watch a Christmas classic: "The Man Who Invented Christmas."  
Play in the Snow
Get outside and enjoy all the Keweenaw's fluffy snow with some family-friendly winter activities. 
Enjoy the holiday season in our Keweenaw snow globe by enjoying some classic forms of winter recreation. Dust off your sleds and lace up your skates as you make some new family memories. The trails of the Keweenaw are calling, and it's time to embrace your winter spirit as you ski through forested wilderness. Dash through the snow on a lantern-lighted trail at Mount Bohemia or hit the slopes at Mont Ripley.  
Interested in updates, travel tips and quirky information about the Keweenaw? Just sign up for the Keweenaw Explorer, our monthly e-newsletter. Complete the form…