When you're in the Keweenaw in the fall, a simple drive to the store can be a world-class fall color tour. But if you're serious about seeing as much of the Upper Peninsula's fall color splendor as possible, we've put together an unbeatable road trip with plenty of scenic views, Lake Superior shoreline, and amazing autumn glory. This 160+ mile route clocks in at a mere 5 hours in drive time alone, so buckle in for a full day of adventuring! There are unlimited opportunities to find great sights, food, and attractions along the way, so pick and choose from this list to make your own unforgettable Keweenaw fall road trip!
KEWEENAW BAY TO CHASSELL
Route: US-41
Mileage: 14 miles
We started our trip near Keweenaw Bay north of Baraga, MI. As you adventure north, you'll hug the coast of Keweenaw Bay with gorgeous views of calm Lake Super waters. As you make your way to Chassell, set the tone for your trip with a peaceful morning at the Sturgeon River Sloughs and enjoy a coffee at Centennial Park. If you find yourself lingering in this quaint little town, we've got a few more stops in mind for you!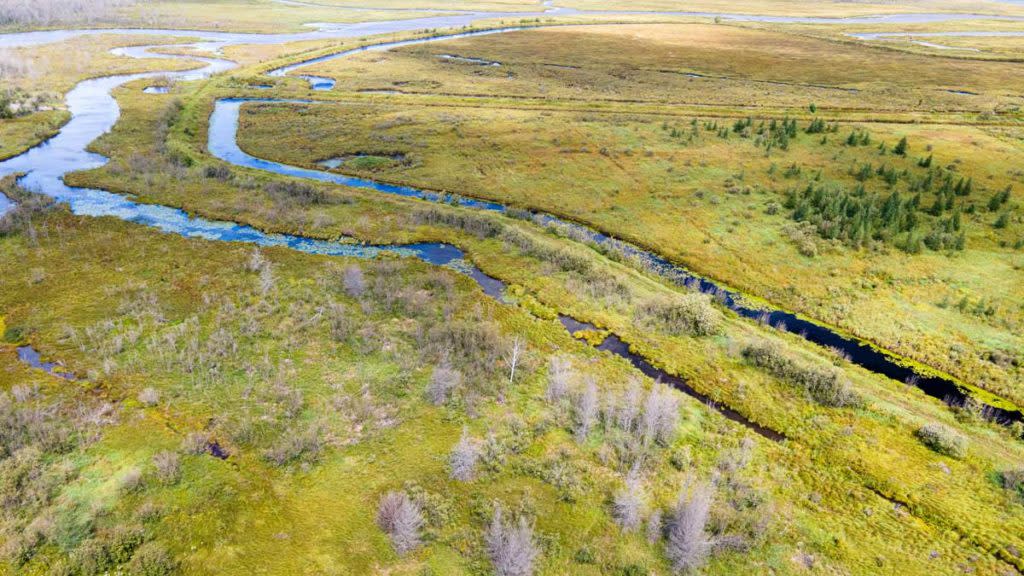 The Sturgeon Sloughs near Chassell offer excellent opportunities for birdwatching and exploring a wetlands ecosystem.
POINTS OF INTEREST:
CHASSELL TO COVERED DRIVE
Route: Chassell-Painesdale Rd → Superior Rd → Onkalos Corner Road → 12th St. → Stanton Ave. → Trimountain Ave  → M-26 → Old M-26 → Obenhoff Rd → Harma Rd → Cole's Creek Rd → Covered Dr
Mileage: 18 miles
This leg of the trip takes you through some of the true Keweenaw backcountry. Rolling fields into close forests, this winding road offers some fun driving (especially as you near Baltic). From South Range, drive on to Atlantic Mine to the Covered Drive. Sweep through and see life outside the Houghton city limits, cruising on through forested straightaways to the gem at the end of Cole's Creek Road…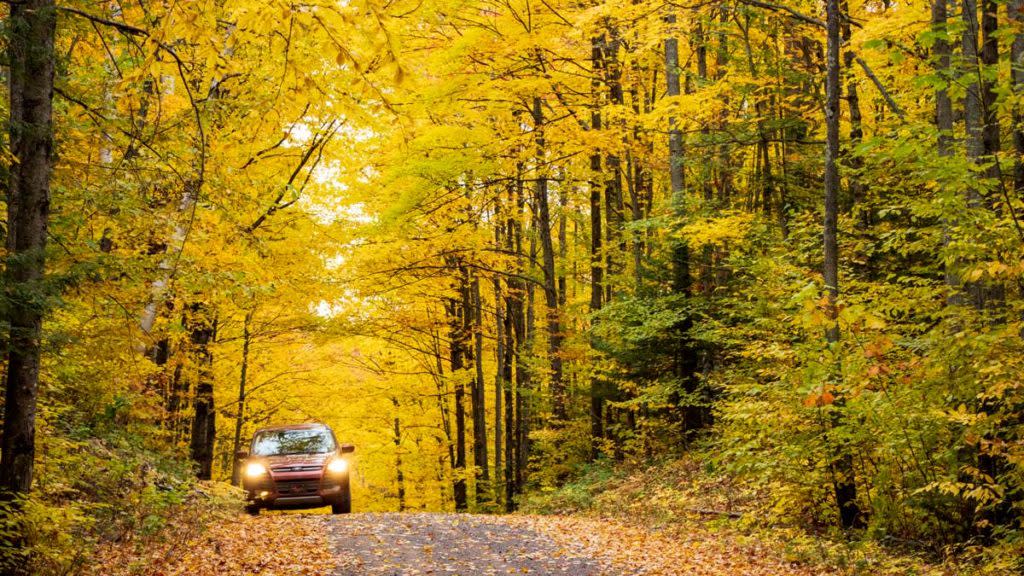 Covered Drive leads visitors through a tunnel of trees along a well-maintained two-track road.
POINTS OF INTEREST:
Painesdale Mine and Shaft – a southern detour, but you can see Champion #4, the oldest standing shaft-rockhouse standing in the Keweenaw.
Gagnon Farms – right at the end of Harma road is a long-established U-Pick farm. Stop for seasonal bounty, and pick up a pumpkin for fall decorating or getting the jump on the spooky season!
Covered Drive – an absolutely iconic drive. Cathedral trees, steep sloping roadsides, ethereal forests. Drive mindfully while your mind is blown. 
COVERED DRIVE TO HOUGHTON
Route: S-554 → Liminga Rd → Houghton Canal Rd → US-41
Mileage: 8.5 miles
After the majesty that is Covered Drive, the route to the Canal will offer a moment to recoup. Bucolic farmland and more of that unbeatable Keweenaw woodlands will usher you to the Canal with impressive views of the Keweenaw Waterway and the Portage Lake Lift Bridge as you make your way into Houghton.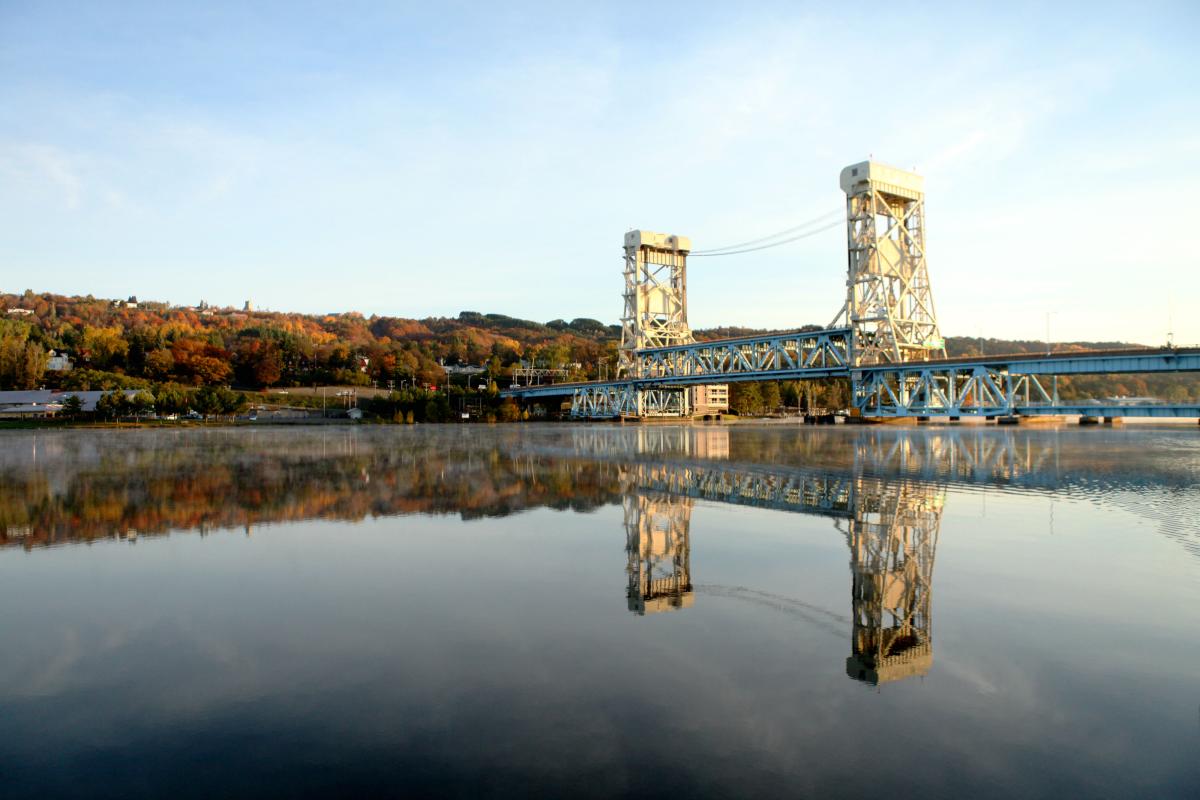 Portage Lake Lift Bridge on a crisp fall morning. | Photo Credit: Kayleigh White.
POINTS OF INTEREST:
Schmidt's Corner Bar & Grill – beloved bar in Stanton Township. Depending on the time of day (and your hunger level), get AMAZING fried wings and Keweenaw Brewing Company on tap.
Canal Road – this road itself is an attraction. Hugging the Portage, you'll be treated to views of Hancock cresting over the water, treelines, and that epic view of the Lift Bridge coming into view!
HOUGHTON TO QUINCY MINE
Route: Montezuma Ave → Shelden Ave → Front St → White St → US-41
Mileage: 3 miles
In Houghton, you'll find multitudes of food and shopping options. Walk down the lively downtown area and see the fantastic living history that comprises the architecture. Save a little room for future treats and head across the Lift Bridge up to the Quincy Mine…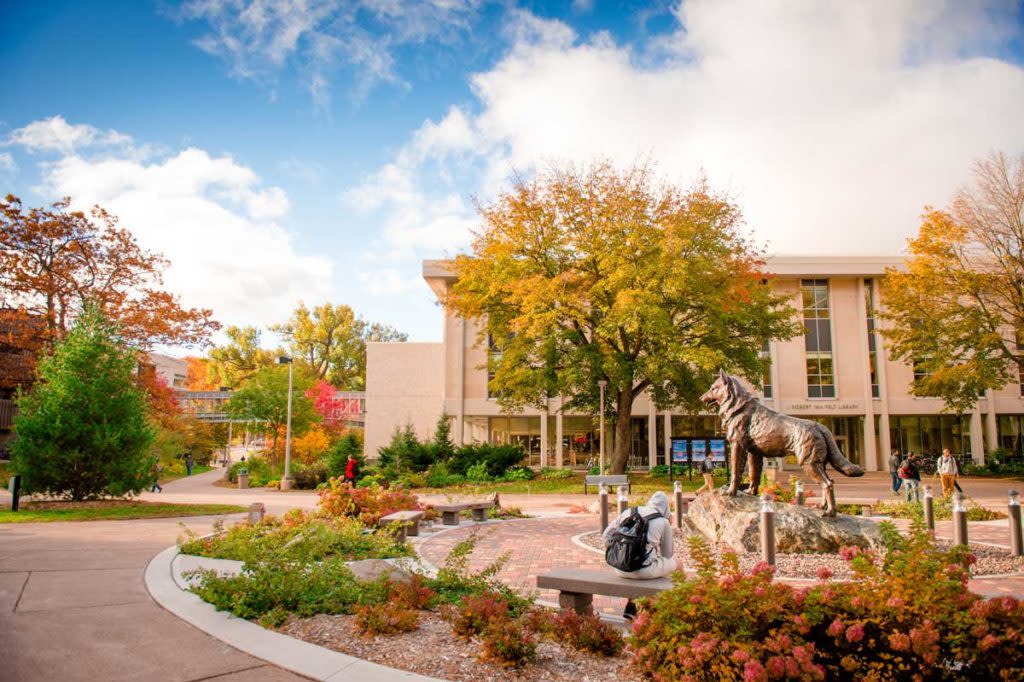 Michigan Tech's campus on a scenic fall day. | Photo credit: Michigan Technological University
POINTS OF INTEREST:
Michigan Tech's Campus – A slight detour, but the open campus of MTU offers a lovely walk. Check out Husky Plaza – 9 foot tall Husky on a 19 Baraga-county boulder! Impressive!
Coffee – There's no shortage of caffeine along Shelden Ave. Check out Camp Coffee or Cyberia!
Dining – Houghton provides a diverse menu for all palates. Classic flat-crust Ambassador pizza, sushi from Sky Sushi, curated plates at The Den… these hardly cover the spread.
Shopping – Get gear and swag at Surplus Outlet and Down Wind Sports, or take home Keweenaw prints and shirts at Studio 13 (just to name a few)
Keweenaw Brewing Company – If you've enjoyed a KBC from your local grocer, just wait until you get it fresh from the tap. A $3.50 pint is your gateway to some good convo at this Houghton craft beer establishment. 
Quincy Mine – An impossible to miss historical treasure, go underground and explore the machinery and mineshafts. Wander through the ruins above ground, and take a mini-fall color tour on the cogwheel!
 

The historic Quincy Mine juts from the landscape as you travel north of Hancock.
QUINCY MINE TO CALUMET
Route: US-41 → 6th St
Mileage: 12 miles
The cruise to Calumet is smooth sailing, and here you'll find a history buff's paradise. Food and shopping all live in fantastic Copper Country-era buildings, many of which have been revitalized through the community's passionate efforts!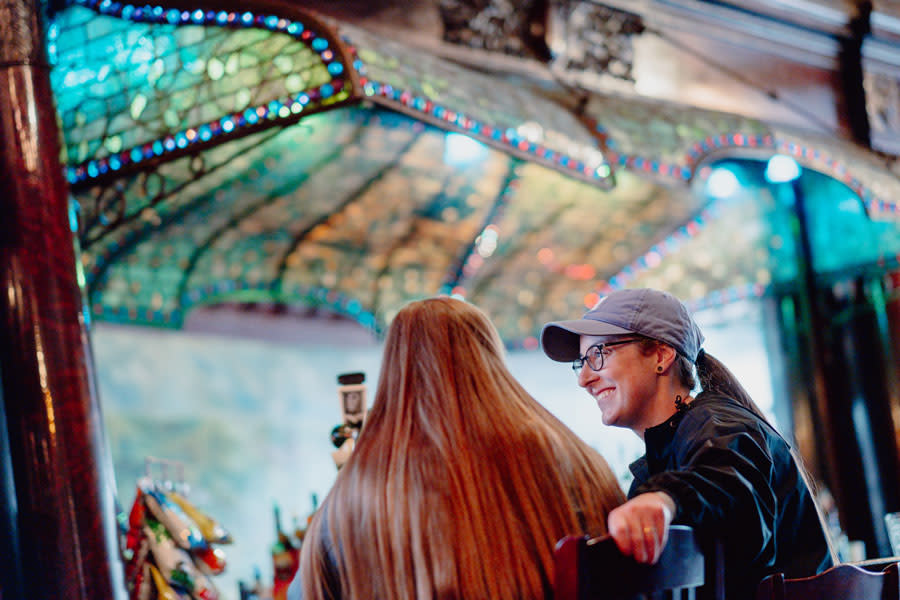 Shute's 1890 Saloon in Historic Downtown Calumet. 
POINTS OF INTEREST:
CALUMET TO PHOENIX
Route: 6th St → US-41
Mileage: 11.5 miles
Back onto 41, your route will wind you through autumnal vistas, through quaint Keweenaw communities, stunning natural features, and more than a few tourist attractions. As you make your way north, you'll be treated to views of the Cliff Range towering above the roadway.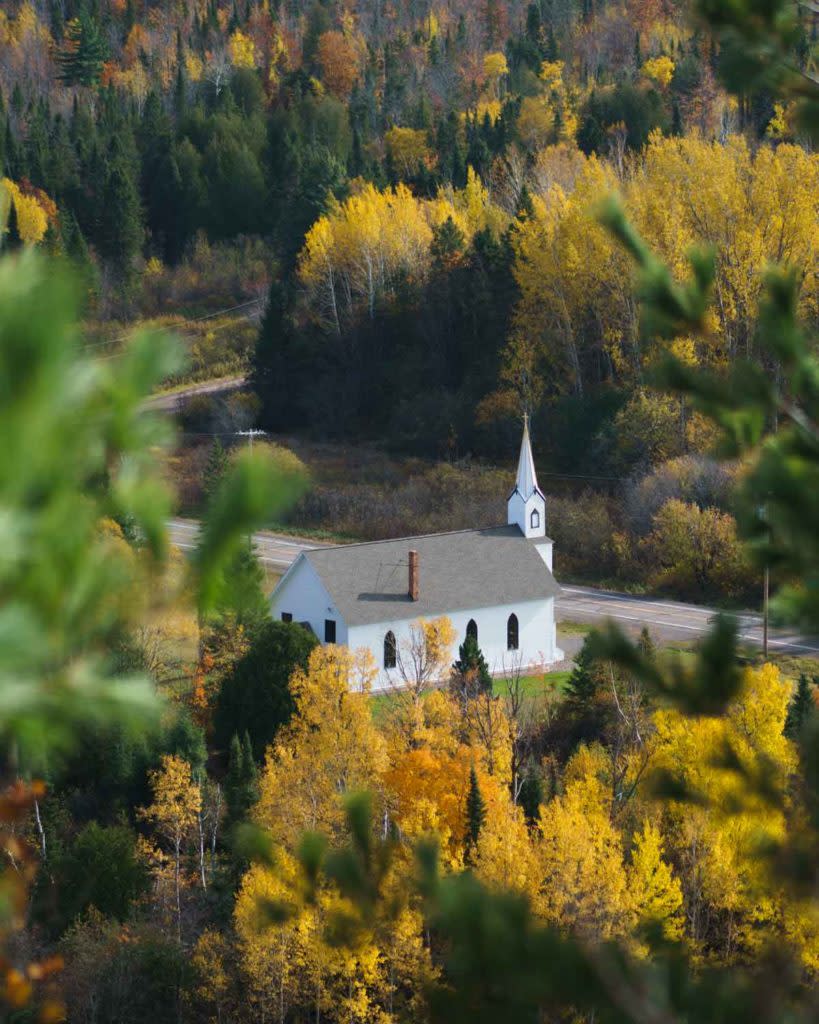 The Phoenix Church along M-26 among the Keweenaw's fall colors. | Photo credit: Roman Kahler
POINTS OF INTEREST:
Kearsarge Stone Ship – Cool photo-op next to the stone ship! A Great Depression relic that has become an area icon.
Prospector's Paradise – In Allouez lies a rock hound's dream. From local copper and agate finds to more exotic specimens, the spot is truly eclectic. Feeling some type of mystical vibes? Perhaps that's the Vortex adjacent to the emporium… only one way to unravel that mystery…
Mohawk Area – Dine with locals, explore the great outdoors, and discover fascinating history in the Mohawk area. Here's our guide to visiting this area. 
The Cliff Range – Viewable from both Cliff Drive or US-41, watch for the towering cliffs as you near Phoenix.
Cliff Mine – a self-guided walk through a Keweenaw Ghost Town, see ruins and sift for copper in the mine rock. Find out how to enjoy this area here.
Phoenix Church – St. Mary's Church (or Phoenix Church as it's locally known) is a preserved location where you can seasonally peek inside to see how Cliff Mine residents worshipped. 
Phoenix Store – find drinks and snacks… and perhaps swap stories with the folks who run the store!
PHOENIX TO BROCKWAY MOUNTAIN DRIVE
Route: M-26
Mileage: 24 miles
Watch for road signs for the "M-26/US-41" split toward Eagle River. The route spins around the fire tower high on the Cliff Range in Phoenix toward Lake Superior. From here, M-26 travels along the northern Keweenaw coastline passing through quaint communities of Eagle River and Eagle Harbor with numerous must-see locations allowing you to see Lake Superior in whatever fall mood she finds herself in – idyllic and placid, or stormy and spectacular. You'll find more technical driving here with its varied curves and hills, so take your time (for your passenger's sake).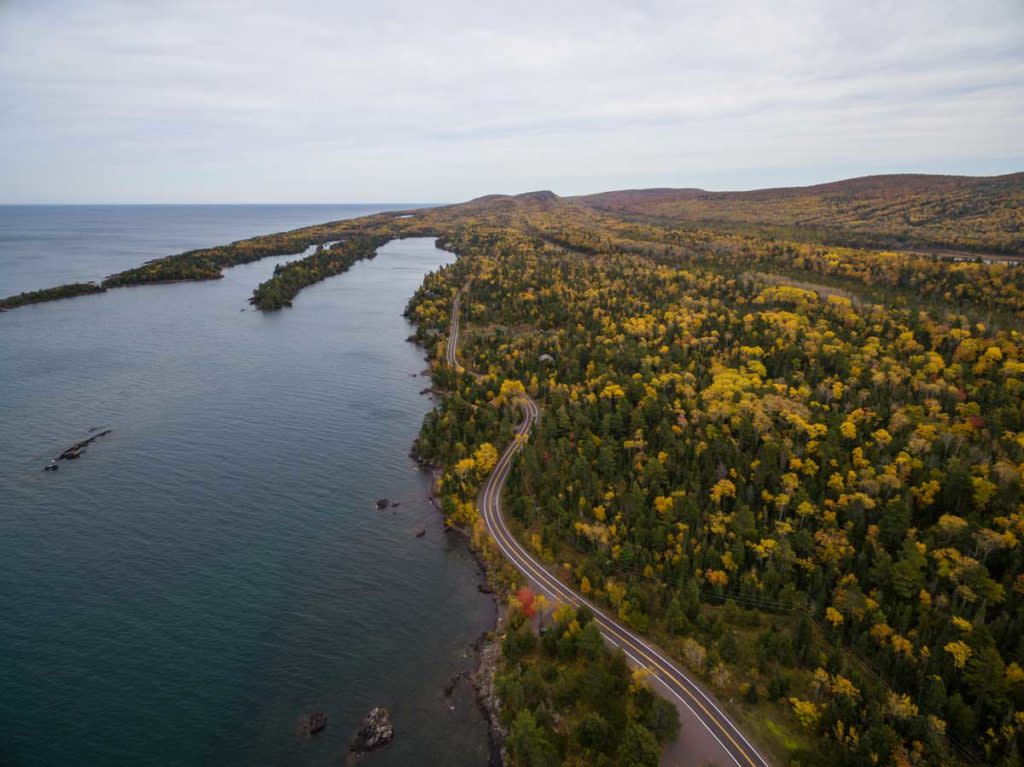 M-26 along the north shore of the Keweenaw Peninsula between Eagle River and Copper Harbor.
POINTS OF INTEREST:
Bammert Blacksmith Shop – Inside you will find a preserved historic blacksmith shop that serviced early Copper Country transportation – shoeing horses and building buggies, sleighs, and wagons.
Eagle River Museum – Step into the past and discover more about the Cliff Mine, Phoenix, Eagle River, and even Crestview, a former amusement park! 
Eagle River Falls – Walk along the footbridge and gaze upon cascading waterfalls. Come fall, this will make for a must-have photo op.
Fitzgerald's Restaurant – Incredible curated dining right on Lake Superior. Get BBQ paired with a fine cocktail or one of their many Michigan beers. 
Great Sand Bay –Stairs lead down to sandy shores, perfect to stretch your legs or take a quick dip on those warmer autumn days.
Nature Sanctuaries – Enjoy a pleasant hike through the interplay of the scenic dunes, Lake Superior, and the colorful fall foliage. Good birdwatching and the occasional beaver spotting!
Jacob's Falls – This falls next to the Jam Pot offers a waterfall stop visible right from the road. For the more adventurous, folks can make a steep climb up to see the upper falls.
The Jampot – A true Keweenaw classic. Monks of the Holy Protection Monastery whip up their famous jams and bakery – a very popular spot!
Eagle Harbor Lighthouse – Jutting out into Lake Superior, you can tour the lighthouse into early October. 
Eagle Harbor Inn – Delicious food in a cozy, "Up North" atmosphere. Try the lobster pizza or fresh whitefish!
Eagle Harbor Beach – Right along the road you can stop at the sandy shores to dip your toes, or take a walk through the harborside community. Great photo ops of the lighthouse from this beach.
Cat Harbor – Regretted not stopping at the beach in Eagle Harbor? Here's your chance!
Esrey Park – A roadside park with great views of the lake and the volcanic rock formations. The waters here are part of the Keweenaw Underwater Preserve, known for scenic diving and shipwrecks.
Eagle River Falls rests along M-26 as you pass through the town of Eagle River.
BROCKWAY MOUNTAIN TO COPPER HARBOR
Route: Brockway Mountain → M-26
Mileage: 9.5 miles
Get an eagle's eye view of the tip of the Keweenaw! Watch for signs to access Brockway Mountain Drive. This 9-mile scenic and leisurely drive up the mountain will open up views for miles with plenty of scenic vistas and opportunities to see stunning fall color stretching for miles. At its end, you'll reach Copper Harbor!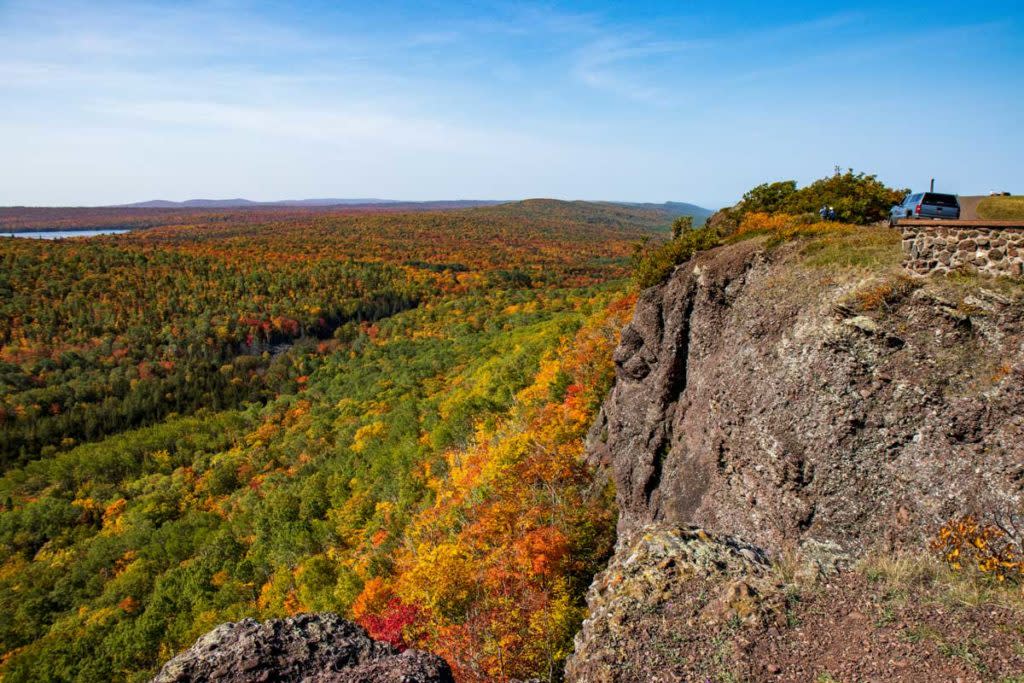 Brockway Mountain Drive was selected by Lake Superior Magazine Readers as Michigan's Best of the Lake '21 for Fall Colors viewing.
POINTS OF INTEREST:
COPPER HARBOR TO DELAWARE MINE
Route: US-41
Mileage: 11.5 miles
For some, no trip to the Keweenaw is complete without driving this portion of US-41. Shrouded in fall glory, this leg treats you to both excellent dining and quintessential Keweenaw experiences…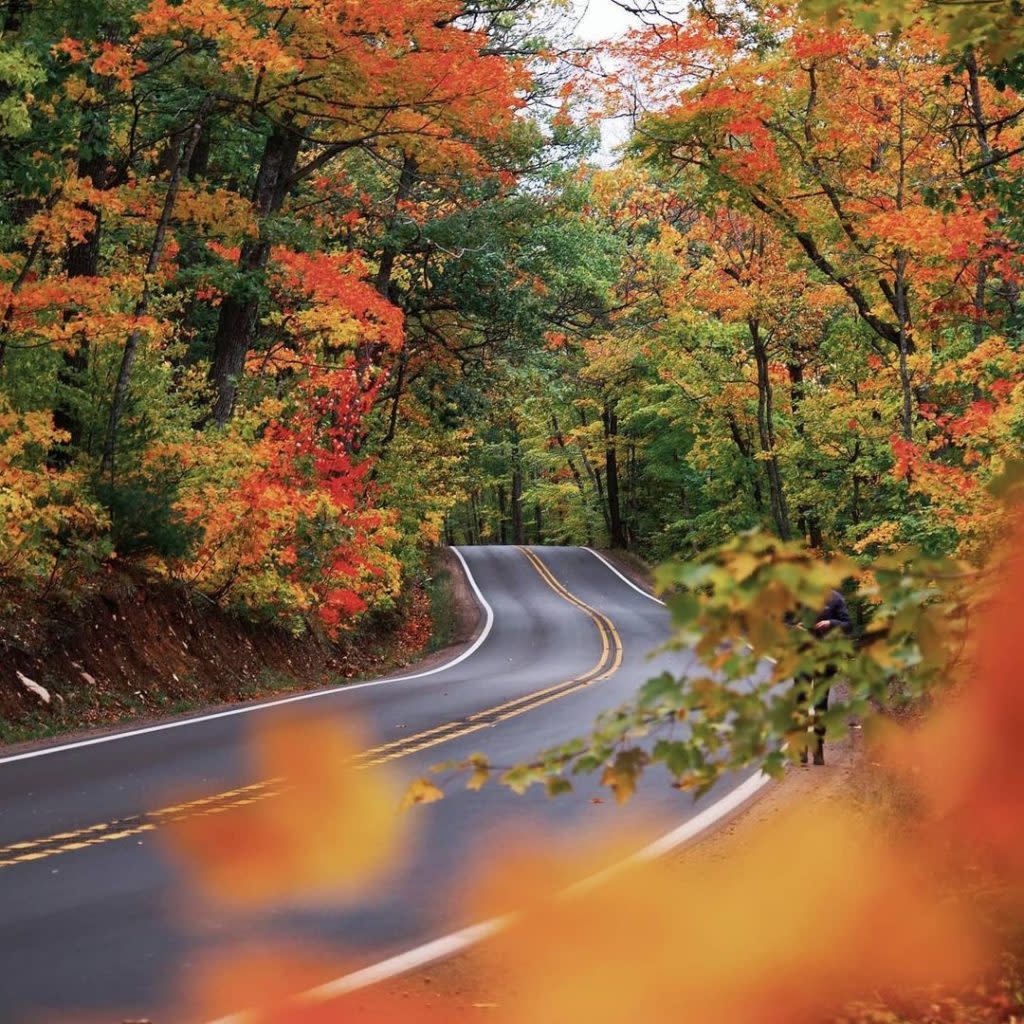 Covered Drive along US 41 is a 10-mile tunnel of scenic fall foliage. | Photo credit: @bolen1ka
POINTS OF INTEREST:
Keweenaw Mountain Lodge – Find rustic, Northwoods dining featuring flavors from all around the world at the KML. Have something sporty on the brain? The KML has great mountain biking trails and events, and has a sprawling golf course and your own personal robo-caddy! 
Covered Road – This road is synonymous with the Keweenaw and Copper Harbor. Trees line the roads, creating a veritable tunnel of foliage. In fall, this road is made for a photographer's lens. 
Delaware Mine – This privately owned historic mine allows you to take a self-guided tour through a beautifully maintained mineshaft. Peek at this experience before you go… 
DELAWARE MINE TO GAY
Route: US-41 → Gay Lac La Belle Rd
Mileage:  26.5 miles
Take a spin to Mount Bohemia and enjoy the natural splendor of the Lac La Belle area while cruising along the Keweenaw's eastern coastline on South Shore Drive. Beautiful views of the lake pair well with the vibrant fall colors. End up in the community of Gay, a unique ghost town with ruins along Lake Superior.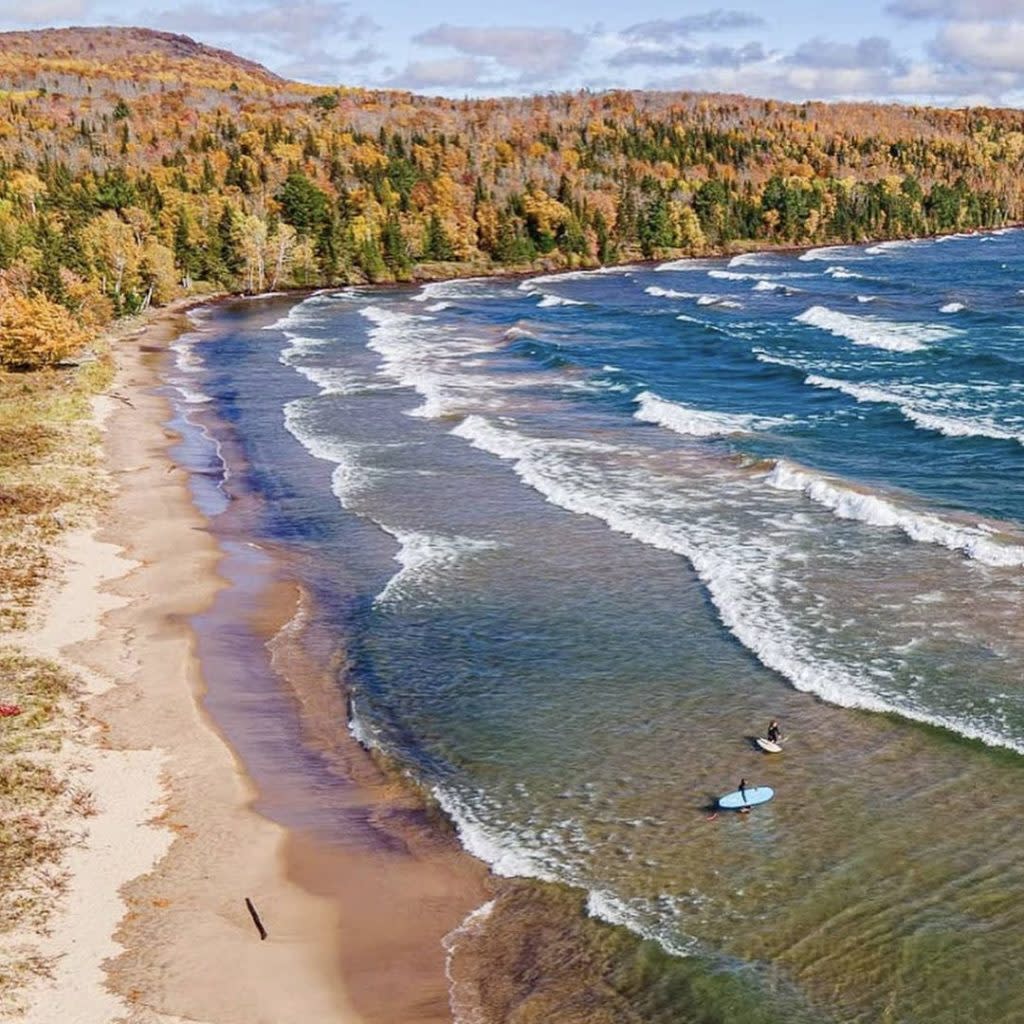 Bete Grise Beach, on the eastern shore of the Keweenaw Peninsula. | Photo credit: @peninsulaseeker
POINTS OF INTEREST:
Mount Bohemia – This popular ski destination makes for a fabulous fall stop. Seasonal fall chair lift rides may be available. Relax at the Nordic Spa's steam rooms and warm tubs, and dine on handmade pasta on the weekends.
Haven Falls - Visible from the road, this waterfall is very easy to view from the road or a quick walk up.
Bete Grise Preserve – walk among the dunes and wetlands, or simply enjoy the lake views as you drive.
Nature Preserves and Parks – Check out Brunette Park and Tobacco River Park for great lakeside walks and other natural beauty.
Gay Smokestack – A relic of the mining days, this tower is perfect for the history buff looking for a photo op.


South Shore Drive takes visitors along the east coast of the Keweenaw Peninsula.
GAY TO CALUMET
Route: Lake Linden Gay Rd → Traprock Valley Rd  → 9th St → Calumet St → M-26
Mileage: 18 miles
Follow this deep Northwoods drive west to Lake Linden, and eventually back to Calumet. If you take a slight detour down into town, Lake Linden has great food and history stops.
POINTS OF INTEREST:
Houghton County Historical Museum – find rooms packed with memorabilia and historic artifacts from the Lake Linden area. Beer nerds can take a selfie with the actual Bosch Brewery wagons outside!
Drive-Thru Depot  – Enjoy your favorite ice cream, or try the Flavor of the Month! The Drive- Thru Depot also has a variety of burgers, sandwiches, wings, and more! 
Lindell's Chocolate Shop – A great spot for dining inside a historic building! Once part of the Bosch name, you can enjoy a meal or ice cream in this vintage restaurant. 
CALUMET TO MCLAIN STATE PARK
Route: M-203  → Calumet Water Works Rd  →  Lakeshore Dr  → M-203
Mileage: 11.5 miles
With a slight jaunt to Calumet Waterworks, M-203 is our final path. And what a lovely journey it is. This highway takes you deep into the Keweenaw Northwoods and begins gently arching down along the western shore.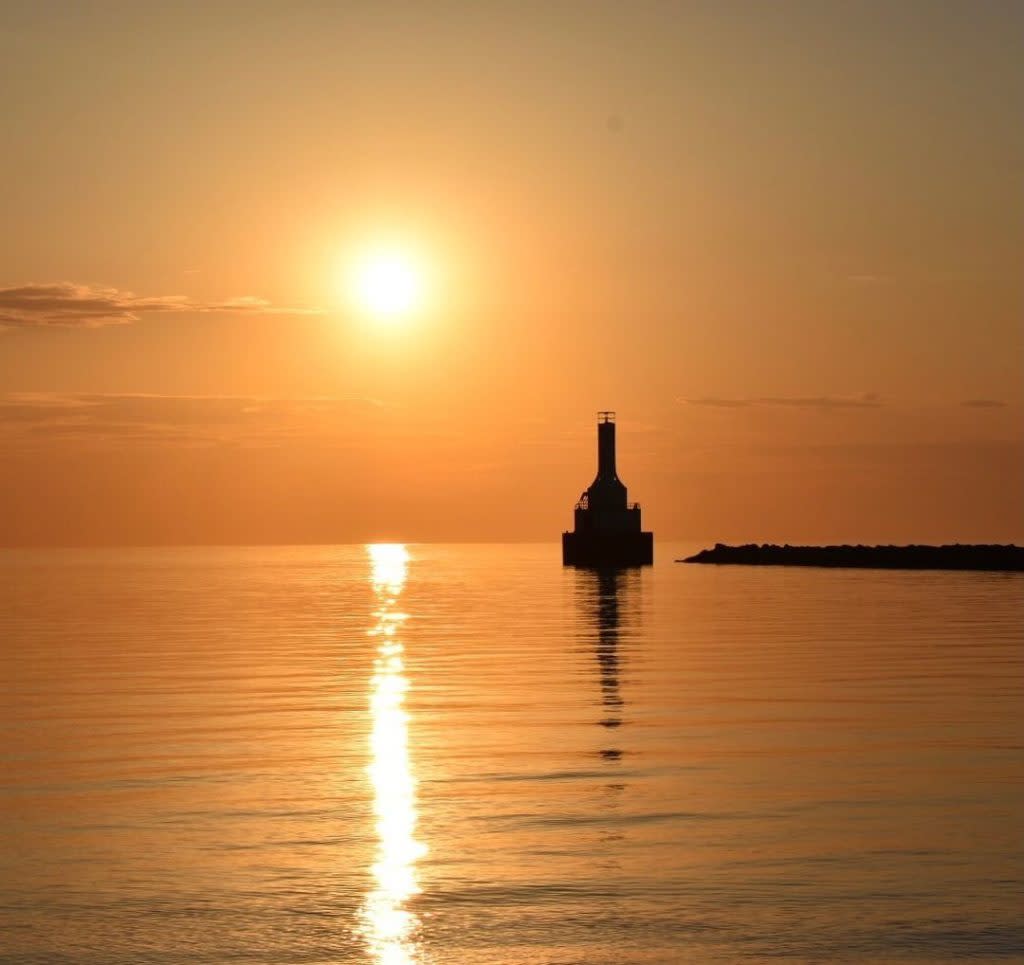 McLain State Park on M-203 is known for its stunning Lake Superior sunsets. | Photo credit: @Maiden.Mich
POINTS OF INTEREST:
Calumet Waterworks – Perhaps one of the best spots for agate and yooperlite hunting. Get out and stretch your legs, and you'll be rewarded with some Lake Superior treasures. Check out our guide to rockpicking to learn more!
McLain State Park – This State Park has fire pits and pavilions for a cozy evening hang, and beach access for those rock hunting, surfing, or swimming. From certain spots in the park, you can view the North Entry lighthouse and maybe even catch the Ranger on her way to or from Isle Royale. 
MCLAIN STATE PARK TO HANCOCK
Route: M-203
Mileage: 10 miles
On our victory cruise into Hancock, we are treated to stunning views of the Portage Canal and the Keweenaw Waterway as the highway runs tight to the water. Hancock welcomes the fall color champion back with a wide array of food, art, and shopping.
POINTS OF INTEREST:
Dining in Hancock – The first restaurant to greet you on your entry into Hancock is Gino's. A great spot for a Patio Pail cocktail, pizza, or fun appetizers. Grab a marg at La Cantina or dive into Milly's divine Detroit-style deep dish!
Copper Country Community Art Center – See the Copper Country through the eyes of its artists, and maybe bring something home that reminds you of this epic undertaking. May we suggest something fall-themed?
Make sure to stop by our Welcome Center on US-41 in Calumet to pick up a map to help plan your ultimate scenic drive! 
Interested in updates, travel tips and quirky information about the Keweenaw? Just sign up for the Keweenaw Explorer, our monthly e-newsletter. Complete the form…